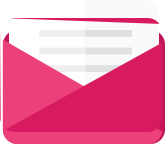 Email Marketing
Create unlimited email campaigns and manage every aspect of your email marketing with Enudge™

Supercharge your Bulk Email Marketing
Improve your audience engagement through enhanced messaging, measuring and analysing your email campaigns over time
Key Features
Unlimited personalisation of your messages
Easy to send your message to custom segments
Ready to use mobile responsive email styles
Automated bounce and unsubscribe management
High deliverability into the inbox

See more features

Use an pre-built template or create your own
Easy to re-use your templates into future campaigns
Schedule your campaign to start on the required date & time
Embed your logo / banner for instant recognition in the inbox
Include an attachment with your email
Also check out our Automation features
Real-time reporting
Measure and act on contact engagement - monitoring open rate, click-through rate, social sharing, forwards. Analytics data kept, and easily accessible, for all time.
Contact Nurturing
Build profiles of your contacts with ease, no limit to the number of categories per contact, wide range of attributes easy to store and use for segmentation and personalisation.
Professional and Engaging
Great looking email messages that are easy to read on any size screen (mobile responsive) and inspire your contacts to take action.
















Easy Database Setup
Import contacts easily from:
Outlook.com
GMail
Xero
Salesforce
Pipedrive
Or import your contacts via a CSV file or text file
Create your own mailing lists, and grow your database using web services, hosted web forms, or widgets