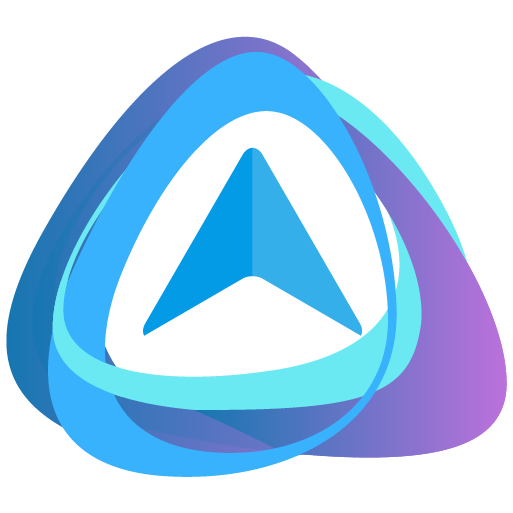 Warning! Bulk emails sent from
your PC can reduce email deliverability
Using an Email Service Provider can improve the rate of delivery into the inbox
From time to time we hear stories of emails not arriving at the destination when they are sent in bulk using Outlook or another email program, but they do arrive when sent via Enudge. There are good reasons for this, some of which are explained below so that you can ensure that you don't run the risk of reducing your email deliverability.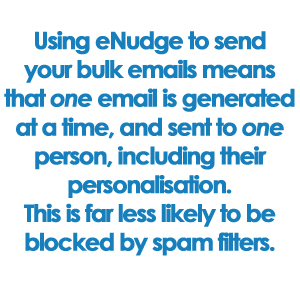 The overarching concept you need to understand is that each email is analysed by anti-spam software sitting between the sender and the recipient, and given a score to determine the likelihood of it being spam. If the score is too high, then the email will be treated as spam, and not delivered to inboxes or text added to the subject to indicate to the recipient that the email is most likely spam (depending on the configuration set by the ISP and email recipient).
When sending bulk emails from Outlook or another email program, people generally create the email and add all their contacts to the BCC field, and then click send. This generates one email sent to many many people, which is a key event looked for by anti-spam software, causing that software to mark your email as spam and not deliver it to any inboxes.

Using Enudge to send your bulk emails means that one email is generated at a time, and sent to one person including their personalisation. This is far less likely to be considered to be spam.

Repeatedly sending messages to email addresses that have previously bounced will cause anti-spam software to give you a higher starting score for each of your emails, thus reducing deliverability across the board for all your emails.

Enudge never sends again to an email address that has received a "hard bounce" e.g. email address does not exist, thus reducing the likelihood that your emails will be treated as spam.

Using an email distribution tool such as Enudge causes your emails to automatically start with a very large negative "spam analysis " score, meaning that you have to do a lot more wrong in order to be given a score that causes your email to be identified as spam.

Recognised email delivery tools such as Enudge have strategies in place to discourage spam, enforce the identification of the sender, and enforce the ability for recipients to unsubscribe, and are accordingly judged as safer than emails originating from an individual.
The above are just a few of the reasons that using Enudge will help you ensure that your emails are delivered to your contacts. You should also continue to ensure that you adhere to the following simple rules to further improve your email deliverability:
honour unsubscribe requests. Enudge wont allow you to send email to addresses that have been unsubscribed; you shouldn't send emails to such email addresses, outside of Enudge, as this will greatly annoy your contacts and could result in your emails being reported as spam and your organisation identified as a spammer. If you contacts want to be receive your emails again, they can simply re-subscribe via the Preferences link at the bottom of every email from Enudge.
get permission before emailing. Ensure that you are adhering to the Spam Act 2003 (Australia) or other relevant anti-spam legislation with regard to obtaining consent. There are circumstances in which you can send emails to recipients that haven't explicitly opted into your messages, but when you do that it is advisable that you explain the basis upon which you are sending the emails to such recipients to reduce the likelihood of annoyance to and complaint by that recipient.
ensure your domain has an appropriate SPF record, specifically announcing to email gateways that Enudge is allowed to send email on behalf of the domain. Read more about SPF records.
If you have any questions regarding the above, please feel free to get in contact with us.
We are happy to visit your organisation or industry group to give a free presentation on the Spam Act and related topics to audiences of at least 10 persons, in order to assist organisations to understand and comply with the legislation and still make the most out of electronic marketing. Please contact us to discuss your requirements.
Heather Maloney
Enudge - the nudge they need!
February, 2009